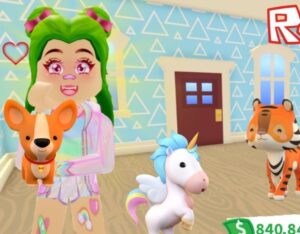 You can join their ranks by starting a household of your own. Living your life alone is very boring, so hurry up to adopt one of the charming kids waiting for become part of a big and friendly family! You'll find plenty of them in the nursery. Just choose a child that you like best and offer them to join you. If they agree, you can start learning each other better, spend common leisure and furnish your own house. By the way, you don't necessarily have to be a parent. Becoming a kid also has its perks. For instance, you won't have to take care of things because everything will be done by adults. Your responsibilities will be limited to going to school and bringing home good marks (which isn't very hard, just don't skip the lessons) and of course having fun!
There are tons of ways to do it in Adopt Me 2. The city is full of entertainments, you just have to decide what you want to do today. On a hot summer day it's exciting to throw a pool party and invite all of your friends. Or you can go to the amusement park and take one of the many rides. Perhaps you are a fan of sports? There is a football field for you to spend some active time. And if you want to catch a bird's-eye view of the whole map and enjoy the feeling of free flight, you can get aboard of a huge balloon that will take you right into the sky! By the way, some locations are off the earth limits and you will be thrilled to find out what lies beyond the clouds!
Just like that, you can spend hours playing Adopt Me 2 and enjoying your virtual leisure. It won't always be about fun, sometimes you'll have to solve various problems, go to the hospital and complete quests. But nevertheless it will surely be incredibly fascinating! Play this great simulator of family life online and get a kick out of the wonderful gaming experience!