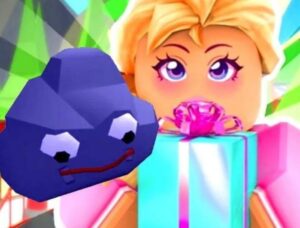 One of them is Adopt Me! This is a family simulator where you can become a happy parent of a no less happy child. And since every family needs a home, you will also get one and will be able to decorate and improve it with a vast set of beautiful items. Everything is just like in real life – you will take care of your kids, check their school marks and go out on picnics with them. You can also get a pet of any kind that will become your faithful companion. In other words, the opportunities are immense, and it's time to find out more about them playing Adopt Me 2020 online!
The events of the game unfold in a fictional city. You will see a giant map that you can explore and travel around. This map includes the houses of other families and different public locations where you can go together with your kids. For instance, there are cafes and restaurants to grab a bite, stores and supermarket to buy all sorts of goods, hospital, school, city park and so on. You will find all this on the central island surrounded by a river. From there, you can walk across one of four bridges to see what lies on the rest of the map. If you follow the white bridge, you will get to the ice cream shop, pizzeria, toy store and car dealership. Yes, you can also buy a car here because, as you can imagine, it's much faster to travel on wheels. The gray bridge will lead you to the soccer field where you can play football. The read one will take you to a huge mall and a swimming pool. Finally, the wooden bridge is a way to a clothing shop.
There is also one special location that requires a separation mention. It's called Sky Castle. You can get there either by rending a ballon or using a teleporter (although this is an expensive pleasure). This is a place where you can buy various potions with useful effects. For instance, there is one that will give you hyper speed and even an anti-gravity potion. Adopt Me! is constantly updated with new content and doesn't let the fans get bored. Enjoy this wonderful Roblox game online and build a family of your dream!